Harry Enten at CNN on why Trump wants to change the subject:
In poll after poll, voters say former Vice President Joe Biden is better equipped to handle the issue than Trump. A Pew Research Center poll released last week found that 52% of voters were confident that Biden could deal with coronavirus. Only 41% said the same about Trump.
...
The percentage who said they were at least moderately worried about the availability of hospital supplies, services and treatment jumped 10 points in Gallup's last poll. A record high 65% said they thought the coronavirus situation in the country was getting worse.
Indeed, that's the key facet of the pandemic: It doesn't seem like it's going away. Cases are surging. Experts believe a vaccine will arrive, but not before year's end at least. The chance that the virus is not at least near the top of the voters' minds come November seems small at this time.
What we're seeing in the polling now is exactly what we'd expect given history. I previously noted that we've had a number of elections where there was a non-economic issue at or near the top of voters' minds at the time of the election.
All of them had a consistent message: An incumbent who wins on the top non-economic issue is reelected. An incumbent who is not trusted on the issue either loses or drops out of the race.
Maggie Astor and Noah Weiland at NYT:
A surge in coronavirus cases in and around Tulsa, Okla., is probably connected to the campaign rally President Trump held there last month, the city's top health official said on Wednesday.
Tulsa County reported 206 new confirmed cases on Tuesday and 261 — a record high — on Monday, and Dr. Bruce Dart, the director of the Tulsa Health Department, said at a news conference that it was reasonable to link the spike to the rally and related events.
"The past two days we've had almost 500 cases, and we know we had several large events a little over two weeks ago, which is about right," Dr. Dart said. "So I guess we just connect the dots."

The county has more infections right now than any other in Oklahoma, and "we've had some significant events in the past few weeks that more than likely contributed to that," he added.
From CNN: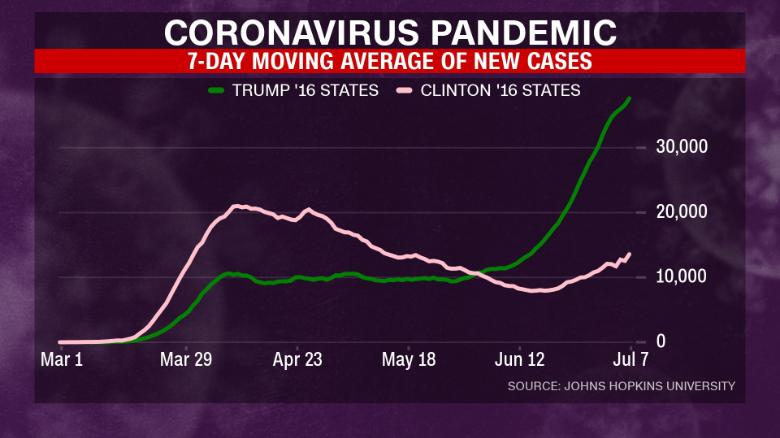 Patricia Murphy at Roll Call:
The sinking feeling that help is not on the way may be part of the reason why the president's numbers among women are so dangerously low. While his overall Gallup approval rating is a not-great 38 percent, it's just 32 percent among women — a drop of 10 points since March. What has happened for women since March? What hasn't happened?

Along with school and child care closures, women have been hit harder than men by job losses during the pandemic. Reporting also showed women-owned businesses were largely locked out of the early rounds of the Paycheck Protection Program. In short, the moms are not all right.
In Florida, the latest Fox News poll showed Joe Biden beating Trump among suburban women 60 percent to 30 percent. Those same women consider Biden better able to handle the coronavirus than Trump 59 percent to 30 percent and race relations 62 percent to 26 percent. In North Carolina, suburban women choose Biden over Trump 63 percent to 31 percent in the Fox News poll. In Arizona, they preferred Biden over Trump 45 percent to 41 percent, with 65 percent saying it was important for the president to wear a mask in public to set a good example for Americans.
If the 2018 midterm elections saw a "revolt" of suburban female voters away from some congressional Republicans, 2020 is on course to be a total revolution against the president if something doesn't change quickly.