David Byler writes at RealClearPolitics:
In January, computer scientist Randy Olson published a piece called "The Shrinking Battleground." In it, Olson argues that the number of presidential swing states has declined in recent decades, that this decline has adverse consequences (fewer states in play leads to lower turnout in those states and presidential candidates only spending time and money on a few swing states), and concludes that the president should be elected by national popular vote rather than by the Electoral College.
...
But if we take a slightly different perspective on this data, we can assuage some of the national popular vote advocates' worries. Specifically, the presidential battleground may shift, so more states may become swing states in the future. Moreover, the success of state level candidates from the minority party in partisan "strongholds" shows that Republicans in blue states and Democrats in red states do not always end up wasting their votes on pre-decided elections.
...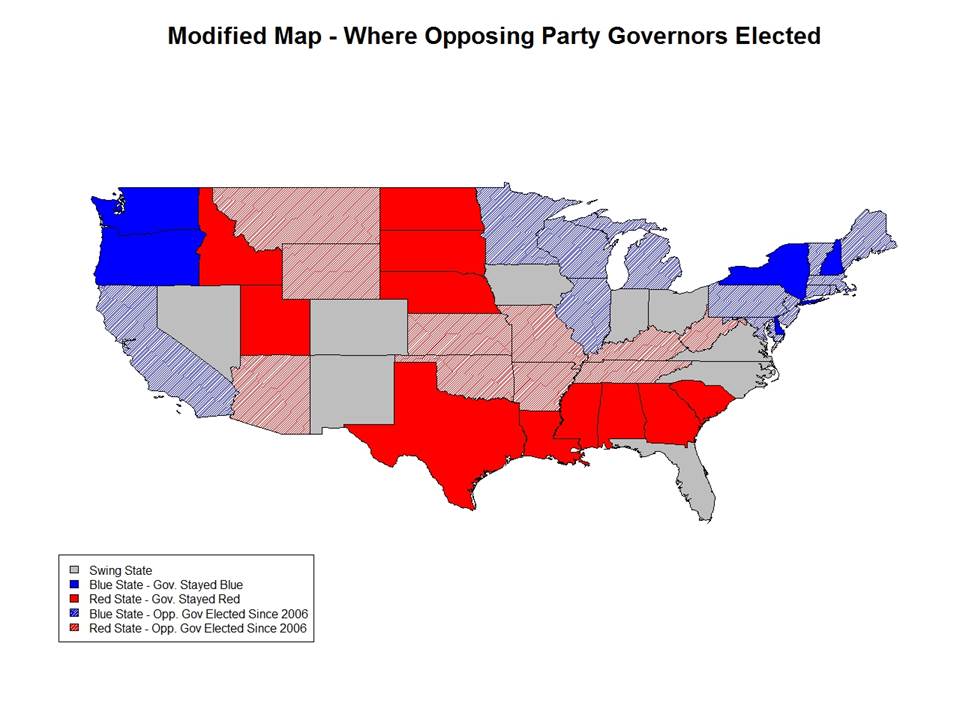 This map uses Olson's stronghold and swing state designations to show where a minority party gubernatorial candidate won anytime from the 2006 election to today. Most states hold gubernatorial elections every four years during the midterms, so (for most states) this map represents three elections – 2006, 2010 and 2014. Similarly, Olson puts any state that voted for the same presidential candidate in three (or more) elections in the "stronghold" category.
A majority of stronghold states recently elected a governor from the state's minority party. And some of these states do not simply lean or tilt toward a party – Massachusetts voted for President Obama by more than 20 points, but Republican Charlie Baker won the governorship in 2014. Similarly, former Massachusetts Gov. Mitt Romney won Arkansas by more than 20 points, but Democratic Gov. Mike Beebe won re-election by a nearly 2-1 margin in 2010.
Minority party Senate candidates also have had some success in Senate elections. In the last three regular Senate elections (2010, 2012 and 2014), minority party Senate candidates won in ten stronghold states – New Hampshire, Missouri, Illinois, Wisconsin, Montana, North Dakota, Maine, West Virginia and Pennsylvania. Most of these states also elected a minority party governor in a recent cycle.