Casino billionaire
Sheldon Adelson's
group, the
Coalition to Stop Internet Gamblin
g, has sent out the mailer below to constituents of California State Senator Carol Liu. Apparently,
the group's
consultant does not know that Senator Liu is a woman. It asks recipients: "Ask him to protect our kids and oppose legalizing online gambling."
The return address is for
Mercury Public Affairs
.
For other clients, see here
.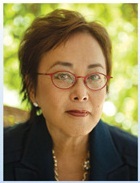 State Senator Carol Liu (D)