Clinton's meeting with the FBI could have been on occasion to focus on ethics issues. Instead, Trump made his own bigotry the story of the weekend.
David Weigel writes:
It was so close to the message that Republicans say they want from Donald Trump: a tweet describing Hillary Clinton as "crooked" and the "most corrupt candidate ever," on the morning that the likely Democratic presidential nominee met with the FBI.
But the image that Trump chose to illustrate his point, which portrayed a red Star of David shape slapped onto a bed of $100 bills, had origins in the online white-supremacist movement. For at least the fifth time, Trump's Twitter account had shared a meme from the racist "alt-right" and offered no explanation why.
...
The offending image first appeared in a June 15 tweet by @FishBoneHead1, an account with fewer than 1,000 followers and a penchant for memes that mock Muslims, black Democrats and "cucks" — an alt-right term derived from the word "cuckold," for people they deem insufficiently conservative. According to Anthony Smith, a reporter for the news site Mic, it was shared June 22 on a racist section of the 8Chan Web forum.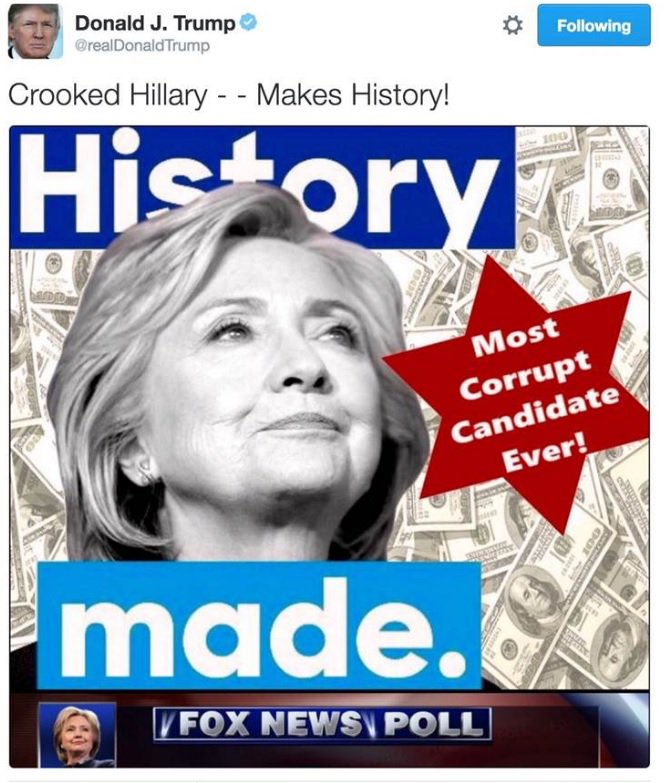 More detail from Anthony Smith:
Though the thread where the meme was featured no longer exists, you can find it by searching the URL in Archive.is, a "time capsule of the internet" that saves unalterable text and graphic of webpages. Doing so allows you to see the thread on /pol/ as it originally existed.
Of note is the file name of the photo, HillHistory.jpg, potentially a nod to the Neo-Nazi code for "HH," or "Heil Hitler," which the alt-right is fond of hiding in plain sight.
Back to Weigel:
"The evangelicals will listen to his pro-Israel statements, while we will listen to his signals," Andrew Anglin wrote in the Daily Stormer, a racist site named after Nazi propagandist Julius Streicher's notorious tabloid.