In
Defying the Odds
, we discuss foreign policy issues in the 2016 campaign.
Benjy Sarlin at NBC:
President Donald Trump, on an unannounced visit to American military personnel in Iraq, said Wednesday he will do "whatever it takes" to secure border wall funding and attacked Democrats for blocking him.
"We need a wall," Trump said at the Al-Asad Air Base west of Baghdad. "We need safety for our country."
Presidents normally avoid partisan fights in military settings as part of a bipartisan tradition of keeping national security institutions separate from politics. Trump, who has frequently disregarded this norm, used his speech to soldiers to attack Democrats over the standoff, saying they only opposed a wall "because I want it."
At
Military Times
, Leo Shane III reports that Trump's approval rating among active-duty military members has declined.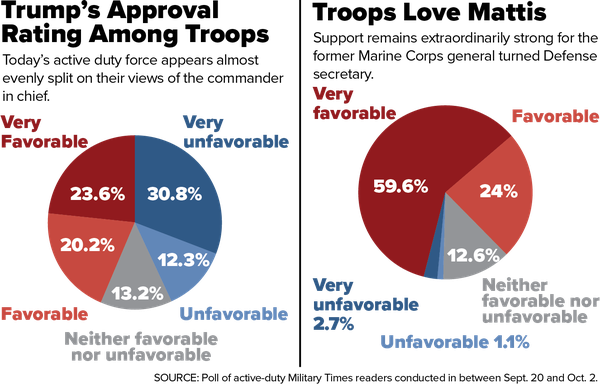 And at NYT, Steve Eder reveals
how Trump probably got his phony medical excuse from the Vietnam draft:
In the fall of 1968, Donald J. Trump received a timely diagnosis of bone spurs in his heels that led to his medical exemption from the military during Vietnam.

For 50 years, the details of how the exemption came about, and who made the diagnosis, have remained a mystery, with Mr. Trump himself saying during the presidential campaign that he could not recall who had signed off on the medical documentation.

Now a possible explanation has emerged about the documentation. It involves a foot doctor in Queens who rented his office from Mr. Trump's father, Fred C. Trump, and a suggestion that the diagnosis was granted as a courtesy to the elder Mr. Trump.

The podiatrist, Dr. Larry Braunstein, died in 2007. But his daughters say their father often told the story of coming to the aid of a young Mr. Trump during the Vietnam War as a favor to his father.

"I know it was a favor," said one daughter, Dr. Elysa Braunstein, 56, who along with her sister, Sharon Kessel, 53, shared the family's account for the first time publicly when contacted by The New York Times.

Elysa Braunstein said the implication from her father was that Mr. Trump did not have a disqualifying foot ailment. "But did he examine him? I don't know," she said.