In
Defying the Odds
, we
discuss
the
2016 campaign.
The update -- recently published --includes a chapter on the 2018 midterms. In 2020, a good economy could tip the election in Trump's favor. A bad economy would drag him down. Coronavirus threatens the economy -- as well as American lives.
Jacqueline Alemany at The Washington Post:
President Trump is seeing a small spike in public support in the face of the coronavirus crisis: Six in 10 Americans say they approve of the job he's doing to combat the pandemic, and his approval rating is back up to match the highest in his presidency, according to a new Gallup poll.

By the numbers: Trump is seeing what Gallup calls a "fairly sudden increase" in job approval ratings — and among independents and Democrats no less. These dynamics — which Gallup senior editor Jeffrey M. Jones calls "both highly unusual for Trump in particular" — signal a boost amid the outbreak, which has infected nearly 55,000 and claimed the lives of more than 700 people in the U.S. as of this morning, despite efforts to slow the spread.


Forty-nine percent of U.S. adults, up from 44 percent earlier this month, approve of the job Trump is doing as president. As Gallup notes, Trump also saw 49% job approval ratings in late January and early February around the Senate impeachment trial that resulted in his acquittal.
Trump's job approval ratings are up 8 points among independents and 6 points among Democrats in the poll conducted March 13-22, compared to earlier in the month.
The 60 percent of Americans who approve of his response to coronavirus crisis includes 94 percent of Republicans, 60 percent of independents and 27 percent of Democrats. 38 percent of Americans say they disapprove of his response.

The numbers are striking especially since many public health experts, medical professionals and Democrats have criticized Trump for a delayed and disorganized initial response to the coronavirus crisis – including struggling to ramp up testing capacity and downplaying the severity of the early threat and potential for massive crisis.
In keeping with past trends: "Historically, presidential job approval has increased when the nation is under threat," according to Jones. "

Every president from Franklin Roosevelt through George W. Bush saw their approval rating surge at least 10 points after a significant national event of this kind.

[George W.] Bush's 35-point increase after 9/11 is the most notable rally effect on record. During these rallies, independents and supporters of the opposing party to the president typically show heightened support for the commander in chief."
David W. Moore, Gallup, September 24, 2001
: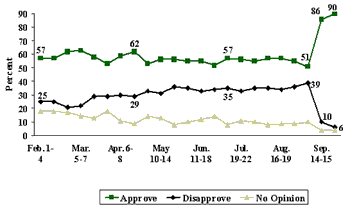 Note that this spike occurred before Bush even started military action against the terrorists in Afghanistan on October 7.
Partisan polarization is part of the reason for Trump's limited rally.
Obama got only a modest bounce after the killing of bin Laden.